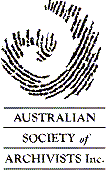 Directory of Archives in Australia
AUS-ARCHIVISTS

An Email List for Australian Archivists.
AUS-ARCHIVISTS was hosted by ASAPWeb from 'day one',
19 December 1995 until the list was relocated in June 2003
to the Australian Society of Archivists web site.
There is an archive of postings to the list up to
24 June 2003 available on the ASAPWeb site.
STAMA

Science, Technology and Medicine Archives
Australian and International Interest Groups
and Email List
ASA Internet Workshops, 26 July 1995

Internet workshops sponsored by the Australian
Society of Archivists, the Australian Archives
and the Australian Council of Archives