You can, of course, browse or search the contents of Bright Sparcs. Our fielded search form makes it easy to find all the physicists or chemists, or even a more specific group such as female geologists between 1850 and 1920.

The User's Guide will answer your questions and help you to find what you need from Bright Sparcs. There are also examples of how to use the Browse and Search facilities.

Perhaps you're looking for a Nobel Prize-winner. Macfarlane Burnet, for example, or William Bragg. There are others - can you find them? (Maybe a keyword search would help?)

Why not have a go at the new Bright Sparcs Quiz? Can you name all of the nine scientists, just from photographs and some clues?

If you like doing puzzles, Bright Sparcs has crosswords, find-a-words and some double acrostics, all based around Australian science.
Have a look at this!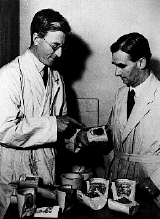 What is this guy pointing at?
Why was it so important?

Who is he?