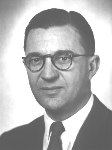 Who am I?
I was born in Melbourne, Victoria, in 1916
I was a Physical Chemist
I started my studies as a chemistry lab assistant to Professor Hartung, at the University of Melbourne
I widely promoted Australian science overseas, and started the Australian scientific instrument industry
I was the Chief of the CSIR/O Division of Chemical Physics between 1958 and 1978


Who am I?
I was born in Beechworth, Victoria, in 1899
I was a controversial Medical Scientist
I dedicated my life to the research and treatment of polio
I discovered that there were several different strains of polio
I led the public campaign to have myxomatosis introduced into Australia for rabbit control


Who am I?
I was born in Madras, India, in 1899
I was educated in London and moved to Australia around 1938
I was an Aeronautical Scientist
In 1919 I was a pilot with Sir Charles Kingsford-Smith
I was the first Chief Superintendent of the Aeronautical Research Laboratory, Division of Supply, Melbourne