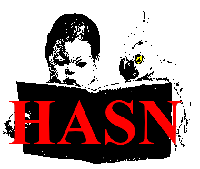 ASAPWeb - History of Australian Science & Technology
Compiled by Tim Sherratt (Tim.Sherratt@asap.unimelb.edu.au) for ASAP. Last revised 16 August 1995.

---
HASN - History of Australian Science Newsletter
HASN is published twice a year in March and August and includes news, reports, reviews, features, competitions (sometimes even prizes!), and a list of coming events. HASN has been going for 10 years now and the hardcopy version is distributed to over 1400 individuals and institutions. Since March 1993 HASN has been published simultaneously in hardcopy and electronic form. Electronic editions are available here:

HASN is also distributed to all members of the Australasian Association for the History, Philosophy and Social Studies of Science (AAHPSSS) with their own Newsletter.
---
For information on obtaining the hardcopy version of HASN contact Tim Sherratt (Tim.Sherratt@anu.edu.au).

Contributions of short articles, reports and notices are welcomed. Items for inclusion in HASN should be sent to the editor:

Tim Sherratt
ASAP Canberra Office
GPO Box 783
CANBERRA ACT 2601.
Phone: (06) 257 7985
Fax: (06) 257 7986
Email: Tim.Sherratt@asap.unimelb.edu.au
---
[ ASAPWeb HAST | ASAPWeb Home ]