Kaleidoscope of Life
Exhibition Opening
Australian Museum, 5 June 1997
---
The Kaleidoscope of Life exhibition, featuring the Cabinet of Curiosities is currently touring Australia. The exhibition opened on 5 June 1997 at the Australian Museum in Sydney. Director of ASAP, Gavan McCarthy, was on hand to document the occasion.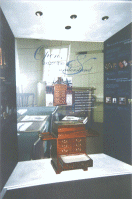 The Cabinet on display within the exhibition. The backdrop features images of the Cabinet on board the Endeavour, along with photographs of all the artworks and quotes from each of the artists.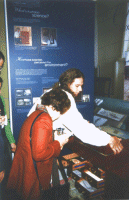 Greg St John, the designer and builder of the Cabinet, displaying the Cabinet and its contents to guests at the opening.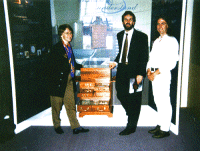 From left to right: ???, the Cabinet of Curiosities, Gavan McCarthy, Greg St John.

---
[ The Cabinet | Bright Sparcs | ASAPWeb ]
Prepared by Tim Sherratt (Tim.Sherratt@asap.unimelb.edu.au)
for publication on ASAPWeb. Last modified 25 June 1997.